Künstlerin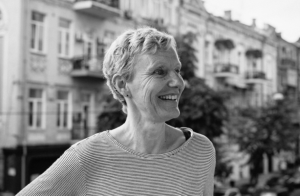 Bühnenbild | Installation Performance | Malerei
Artist
set-design | installation performance | painting
(EN)
Marianne Hollenstein was born in Basel / Switzerland and completed her studies in Szénografie in France in 1993. Then she worked as a freelance stage and costume designer in Bochum, Dresden, Berlin, Potsdam, Basel and Zürich.In 1999 she received the award of the Academy of Arts in Berlin.
From 2000-2004 she directed the stage design-atelier at the Hans Otto Theater in Potsdam. In 2006, she opened her studio in Ulm to engage more intensively with visual art. Her works for theaters, her performances, installations and exhibitions has taken her in recent years throughout Switzerland, Germany, Turkey, Greece, Africa, Israel, and finally Ukraine. She will travel to the USA with her next big exhibition.
(D)
Marianne Hollenstein ist in Basel / Schweiz geboren, schloss 1993 ihr Studium der Szénografie in Frankreich ab. Danach war sie als freie Bühnen-und Kostümbildnerin in Bochum, Dresden, Berlin, Potsdam, Basel und Zürich tätig. 1999 erhielt sie den Förderpreis der Akademie der Künste in Berlin.
 Von 2000-2004 leitete sie die Ausstattung am Hans-Otto-Theater in Potsdam. 2006 eröffnete sie ihr Atelier in Ulm, um sich intensiver mit der Bildenden Kunst auseinander zu setzten.Ihre Arbeiten für Theater, ihre Performance, ihre Installationen und Ausstellungen führten sie in den letzten Jahren durch die ganze Schweiz, ganz Deutschland, in die Türkei, nach Griechenland, Afrika, Israel, und letztendlich in die Ukraine.
Mit ihrer nächsten grossen Ausstellung wird sie in die USA reisen