NEXT ISSUE: ARTIFACT New York
3.9.2021 – 23.9.2021
Manhatten Lower East Side
84 Orchad Street
New York NY 10002, USA
19.08.2021 LIVE on ISSUU
BESCHREIBUNG: 
Wenn ihr schnell und einfach wissen wollt, an welchen Projekten ich gearbeitet habe, in Zukunft arbeite oder einfach etwas über mich erfahren wollt dann könnt ihr ab heute mein aktuelles Dossier 2021 ganz einfach auf ISSUU durchblättern. Einfach dem Link folgen.
ISSUU-Link Dossier Marianne Hollenstein
14.04.2021 mit Anne Diemer und Marianne Hollenstein
BESCHREIBUNG: 
Theaterfrauen bringen zu Wort: Frauen in Literatur & Kultur sichtbar machen. Weibliche Ensemblemitglieder lesen Texte von Frauen, stellen ihre Lieblingsautorinnen oder vergessene Künstlerinnen vor, besprechen Texte und Themen. Es wird Portraits von Künstlerinnen geben und Interviews mit Theaterfrauen oder Frauen, die in der Kunst tätig sind. Wir gehen auf Spurensuche.
PODCAST-FOLGEN Link:
https://schlosstheater-celle.de/programm/reformation-celle-ua/details.html tx_theatre_plays%5Bplay%5D=466&tx_theatre_plays%5Baction%5D=show&tx_theatre_plays%5Bcontroller%5D=Play&cHash=e6dcb8d426e4e2cc7087b5a07559568c
"DENKTAGEBUCH VON HANNAH ARENDT"
13. März 2021
14 Uhr Livestream Link: https://www.youtube.com/watch?v=ZzDGZUZ_vCw
bei YouTube
Link zu Teaser:
Künstlerin/Artist: Marianne Hollenstein
Stimm & Video/ Voice & Video: Katharina Weithaler
Musik/ Sound Georges-Emmanuel Schneider
Project assistant: Issam Khmir
Über das Projekt
Aus dem Denktagebuch von Hannah Arendt (Deutsch-Jüdische Philosophin; 1906-1975), bestehend aus 28 Schreibheften, bieten Texte, Briefe , Essays, Gedichte und Gedanken die Grundlage dieser Performance. "Ich will verstehen" Dieser Satz spielte im Leben von Hannah Arendt eine zentrale Rolle. 
Die Künstlerin Marianne Hollenstein malt live auf Boden und Wandpapiere zu Texten, gesprochen von der Schauspielerin Katharina Weithaler. Sound und Musik sind komponiert von dem Musiker  Georges-Emmanuel Schneider. Katharina Weithaler hält die Performance mit der Kamera fest, so schafft sie neue Blickwinkel und Perspektiven.
Dieses Projekt wurde gefördert durch die Stadt Ulm Kulturabteilung.
About the project:
The Thinking Diary by Hannah Arendt (German-Jewish Philosopher; 1906-1975), consisting of 28 exercise books, texts, letters, essays, poems and thoughts is the fundamental source of this performance. "I want to understand" This sentences played an important role in Hannah Arendt's life and work.
The artist Marianne Hollenstein paints on floor and wall paper, accompanied by text, spoken by actress Katharina Weithaler. Sound effects and music are composed by musician Georges Emmanuel Schneider. Katharina Weithaler will create with camera work new angles of vision and perspectives.
This project was sponsored by the city of Ulm culture department.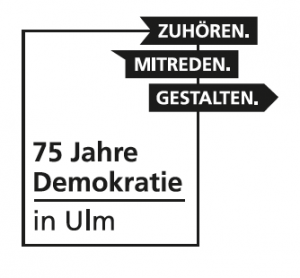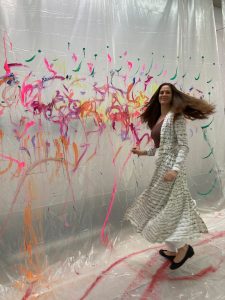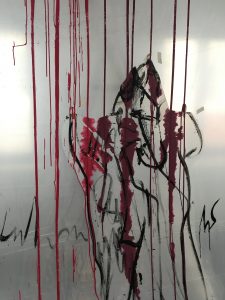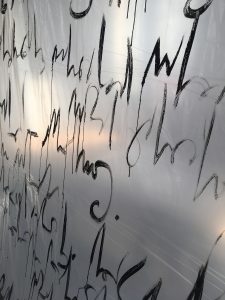 "human condition"
14.6.2021 – 20.6.2021
at VOLTA Basel
in cooperation with Set – independent Art Space – Kiew | Ukraine
Elsässerstr. 215
4056 Basel, Switzerland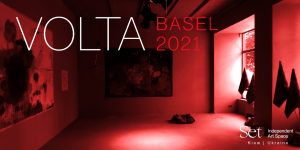 Exhibition ARTIFACT
3.9.2021 – 23.9.2021
Manhatten Lower East Side
84 Orchad Street
New York NY 10002, USA